In order to become a Notary Public in the state of Texas you must provide a $10,000.00 Notary Bond.
What Is The Purpose Of A Notary Bond?
A Texas Notary Bond protects the public from a notary public that does not up perform their duties honestly and appropriately.  An individual harmed by a notary may file a claim on the $10,000 Texas Notary Bond to be made whole.  A Texas Notary Bond is effective for 4 years and follows the term of your notary commission.
How Do I Obtain A Notary Bond?
There are 3 easy steps to obtaining a Notary Bond in Texas:
Complete Form 2031
Send us a copy of the form or complete our online application
Send in your Notary Bond, completed form 2031 and a $21 filing fee
Alternatively, some of the surety bond companies we work with can file the bond electronically.  We would need a copy of you completed Form 2031, payment of the $100 premium for the bond and the $21 state filing fee.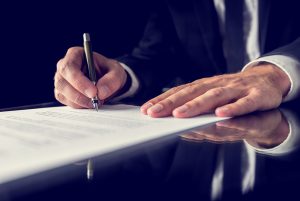 How Much Does a Notary Bond in Texas Cost?
The premium for a 4 year, $10,000.00 Texas Notary Bond is $100.  However, there are also options to purchase Errors & Omissions (E&O) insurance with your bond as well.  Give us a call at 512-640-6444 and we can discuss your options.
Let Us Help!
At Schmalz & Associates we are surety bond experts and would love to help with your notary bonds needs!  You may call us at 512-640-6444 or email us at eric@schmalzsurety.com
External Resources:
Texas Secretary of State Notary Information