A Subdivision Bond is a type of contract surety bond.  A Subdivision bond guarantees public improvements will be completed pursuant to the development agreement between a governing municipality and a developer.
For example, if a developer wants to take a piece of raw land and break it up into residential lots for homes he or she would engage in an approval process with the governing city of county.   A civil engineer would draw up a site plan including public improvements.  Examples of public improvements are:
Storm or sanitary sewer
Water main
Streets
Curb & gutter
Fire protection such as fire hydrants
Upon approval of the plan, an agreement between the developer and governing municipality will be signed.  This agreement will lay out all of the obligations the developer must fulfill.  Including that the public improvements will be turned over to the governing municipality as their asset going forward.  As a type of contract surety bond, the subdivision bond will guarantee this agreement and provide the security to the municipality that the improvements will be completed.  Only when these improvements are completed and approved will the municipality lift its sales restriction.  This allows the developer to move forward in selling lots or home they've built.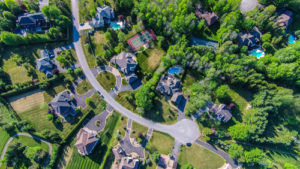 What Is the Process Of Obtaining A Subdivision Bond?
The first step is reaching out to a qualified surety bond agency like Schmalz & Associates.  We can walk you through the steps and information needed to obtain a bond. As the developer or entity needing the bond, you'll want to be prepared with business and personal financial statements and complete an application or questionnaire.
Aside from general information like personal credit, financial strength and experience, the surety underwriter will typically request specific documents such as:
Copy of subdivision improvement agreement
Required bond forms (if applicable)
Engineer's itemized cost breakdown for public improvements
Information on the general contractor performing the work (will they provide a payment & performance bond to the developer?)
Information on the construction lender and related information

Amount of the total construction loan
Amount of loan allocated for public improvements
Loan commitment letter
Letter of "set aside", if applicable
The tactic of "setting aside" loan funds in an escrow account dedicated to public improvements offers comfort to your bonding company.  This ensures that the obligations they are guaranteeing have the funding available to be completed.  The premium for a subdivision bond depends on many factors and can range from 1.5-3% of the amount of the bond.
Please reach out to Schmalz & Associates to start the process of obtaining your subdivision bond.  We write subdivision bonds in Texas and all other states as well.  You may email Eric at eric@schmalzsurety.com or call at 512-640-6444.  We can answer your subdivision bond needs.
More Information
External Resources:
City of Austin, TX subdivision bonds