Bidders beware! Have you ever bid on a public project using a cashier's check or money order as bid security? Be sure you understand what you're guaranteeing with that cash!
What is Bid Security?
What is bid security? The bid security is essentially saying that if the contractor is low and awarded the project, they will enter into the contract at the price represented in the bid. Bid security ensure they will provide Payment & Performance bonds that guarantee the contract. The financial aspect of a Bid Bond protects the owner from financial loss if for some reason the low bidder cannot or will not enter into the contract. The owner then must go to the next lowest bidder, which is more expensive!
Bid Bond vs. Cashier's Check
The great thing about using a Bid Bond as your bid security is that by underwriting the project for you at the bid level the surety company is pre-qualifying you for the Performance & Payment bond to follow, if low, and awarded the contract.
You might be bidding on a $100,000 "Local Let" TXDOT project with only 2% bid security required so you figure you'll use a cashier's check for convenience.  You've been pre-qualified with TXDOT up to a certain bid capacity so you're feeling comfortable.  Well, just remember you put up cash guaranteeing you'll provide a Performance & Payment bond on that contract, if awarded.  Should you be unable to post Payment & Performance bonds you will be forfeiting that cashier's check to the project owner.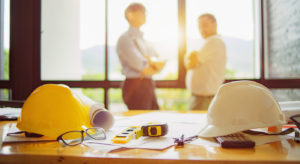 Underwriting Process
Starting the surety underwriting process AFTER you're low on the job can put you under stress of a short time frame to get the Payment & Performance bonds in place. Additionally, it also creates greater potential for more questions from your underwriter as they didn't have a chance to review the project with you prior to the bid and provide feedback.  Worst case scenario is that you wouldn't be able to get the bonding and have to forfeit your cash security and the contract.
At Schmalz & Associates we are looking out for the best interest of our contractor clients and make sure that you have the proper bond program in place BEFORE you bid.
How Do I Obtain A Bid Bond?
Here are some steps to take to get set up for Bid Bonds:
Start a relationship with a surety agent like Schmalz & Associates
Your agent will help identify the appropriate surety company for you to work with
Identify the project you want to bid on, pull plans & specs and develop your bid estimate
Send your agent a Bid Bond Request Form accompanied by any relevant information about the bid and your company
Get bid approval from your surety company
We hope this article has helped you better understand what bid security is and how the bonding process works. Let us at Schmalz & Associates help you get surety bonding in place so you are prepared for your next bid. We can assist you with surety bonds in Texas for TXDOT projects or any other public project in the U.S.
Email Eric Schmalz or Nicole Schmalz. Or call us with any questions at 512-640-6444.
Please reference some of our other surety bond resources as well:
More Information
External Resources